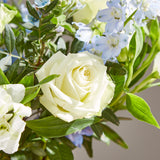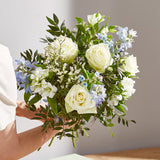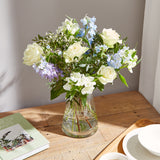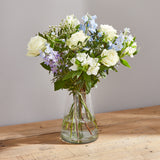 Baby Boy
Baby blue for a baby boy
It's a boy! Celebrate baby's arrival with this gorgeous bouquet, a mix of powder blue delphiniums and oxypetalum together with white roses, alstroemeria and limonium. While it's the perfect treat for new mums, our sensational Baby Boy bouquet makes a thoughtful gift for a loved one on any other occasion, too.
Flowers that do good too
We are donating 100% of profits from your orders of the Baby Boy bouquet to The Lullaby Trust for the remainder of 2023. Find out more about The Lullaby Trust.
IN THE BOX
Our Baby Boy bouquet includes the following fresh flowers and foliage, all arranged by hand by our lovely florists:
White roses, white alstroemeria, white limonium, blue oxypetalum, blue delphinium, and pistache.