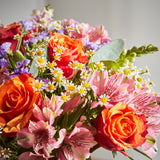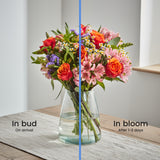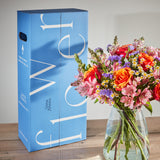 Lise
Glowing essence
Like the first hints of a warming sunrise after a cold night, the Lise bouquet radiates hope. Cherry Brandy roses and pink alstroemeria flush against lavender antirrhinums and lilac statice. The white and yellow tansies are like the suns bright rays peeking over the horizon. Send this to someone for a balmy and energising surprise gift.
In the box 
Our florists arrange our sensational Lise bouquet by hand with the following fresh flowers :
Cherry brandy roses, lavender anthirrhinums, lilac statice, tanacetum vegmo, pink alstroemeria and eucalyptus foliage.