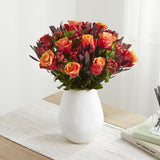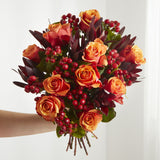 The Times Ethical Selection
Fiery glow
Your exclusive flower selection is as glorious as a blazing sun being chased over the horizon by twilight. 'Cherry Brandy' roses, with their orange to red ombre, and flaming red hypericum radiate warmth and burgundy 'Safari Sunset' leucadendron tempers the heat like the coming night sky tinged purple by the final rays of light.
In the box
This selection contains the following:
'Cherry Brandy' roses, red hypericum and leucodendron 'Safari Sunset'
Arranging your flowers at home

This is a selection based on our flower subscription. The flowers will arrive unarranged in our signature FlowerPaper and secured with compostable ribbon. Details of how to arrange your stems at home are on the inside of the box lid.